Question: Does the
roof industry
recommend cleaning my
roof?
Answer: Yes Check out your manufacturer from this list .

Question: If my roof is fairly new and looks good from the street, is it OK to skip softwash cleaning it?
---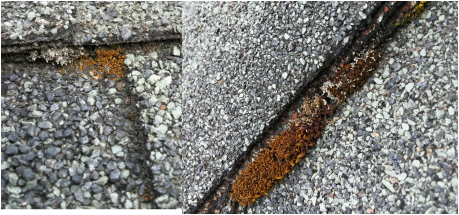 Answer: Even from a seemingly clean roof we can find algae, moss, lichen and bacteria eating away at the roof. This is the same roof above and on a closer look you can see what we found, literally taking years off the life of the roof.

---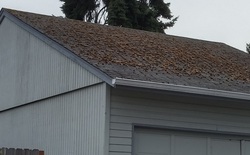 Question: If my roof has been neglected, should I just wait and put on a new roof when it leaks?
Answer: You can loose a third or more of the life of your roof by not cleaning it! If you want to spend Thousands of dollars you can just put a new roof on right away. If you want to save money, clean your roof and you will probably get many more years out of it before you need a new roof.

---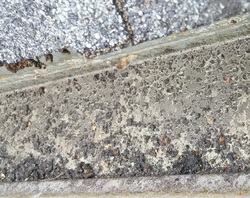 Question: Why do I have roof shingle granules in my gutter all the time?
Answer: It could be from the algae, moss, lichen and bacteria eating away at the roof. As these organisms grow and expand they loosen the components of your roof and you see them in your gutters.

---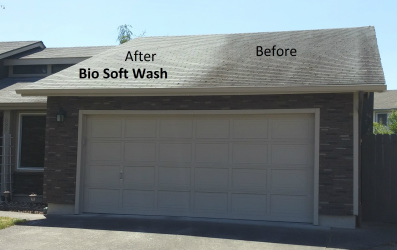 Question: Will my shingles look brand new after the cleaning even if my roof was a shag moss roof to start with?
Answer: NO This is not magic and your heavily infested roof may take some time to release all of the dead moss and growth. Moss has an anchor system which is extremely hardy. It bonds with the rough granular surface of your shingles, literally putting roots into the structure. In order for a fully matured moss plant to come off, the root system will need to deteriorate after the moss is dead. This may take some time. How much time is determined by the species of moss and how mature the organism is. Most species will start to fall off after a few weeks. Some can take as much as 3 months. After applying our cleaning system, the moss immediately starts to break down. We then do a freshwater rinse down on your roof. In most cases, the majority of the moss will come off at this point. Anything which remains is firmly anchored in and MUST be given time to release without doing damage. Letting these plants come off by themselves is the safest thing for your roof. The black streaks should disappear instantly giving your roof a bright, fresh and clean look.
_
---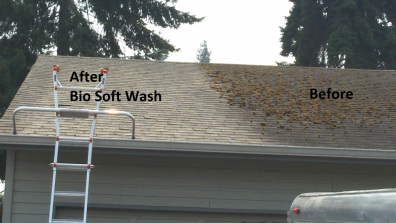 Question: If I get my roof cleaned is there any warranty?

Answer: YES For eighteen months if moss returns, we will come back and take care of it. After the initial treatment you get discounts on maintenance soft wash treatments.

---
In one year over 164,000 homeowners went to the emergency room from ladder and roof related activities. Let Bio Soft Wash do the job for you!